I was 8-years-old- when I was given my first Liverpool shirt by my grandparents, who had the name of my favourite player printed on the back of it. This was Christmas 2000, a time where most Liverpool fans idolised Michael Owen. However, the name I had printed on my back was 'GERRARD'. To this day, every football shirt I have owned, be that Liverpool or England, has had the same name adorned on the back, and every game I have been to I've been ecstatic to see my hero, Steven Gerrard. [I even had a Steven Gerrard hat, which makes me cringe inside when I think of myself wearing it, only for you Stevie!]
[FA Cup Final, 2006 v West Ham. When I saw Stevie score in the last minute to take the game to extra time in Cardiff, where he also lifted the trophy.]
I played football for most of my life until I was 18-years-old, and Steven Gerrard was everything I aspired to be in a player. Technically gifted, talented, committed and passionate, he wore his shirts with pride. I will never forget the transfer windows of 2004 and 2005, when constant rumours that Gerrard was to join Chelsea were rife. My father, brother, and paternal grandfather (Manchester United fans) constantly taunted and teased me, telling me he was going to jump ship. However, Gerrard remained true to me, and millions of other Liverpool fans, as he chose to stay and effectively give his footballing life to the club.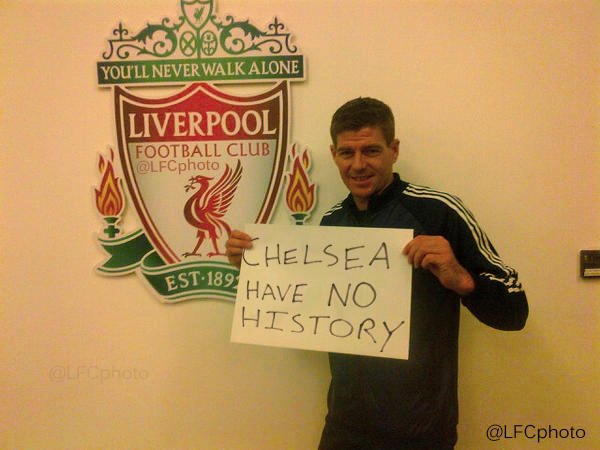 I won't go on and on about Gerrard's fantastic footballing moments, or those times when he's almost single-handedly saved his team from defeat- we have all witnessed his magical skill at some point, whether that be in the Premier League, in Europe, or worldwide. Instead, here are some of the many thousands of people who agree with me:
Roy Hodgson: "He is an outstanding, mature thinking football man. I'm delighted I'm the manager when he gets that 100th cap."

Graeme Souness: "I'm trying to think over the last 10 years….I'd have him as number one [for England]. I'd say that Steven Gerrard has had the biggest influence on the England team in the last 10 years. He would get in any team that Liverpool have had that I know of. For the best part of 10 years, he has been Mr Liverpool, he has carried a team through some sticky points. I look at him this year and I think he has modified his game. I think he is less explosive and he's more of a proper central midfield player now. It's not to say he has gone backwards as a player but when you get a bit older you haven't got those same energy levels and he has adapted his game. Because he's such a wonderful passer of the ball I feel a newer role would help him and providing he can avoid injury, he could play like that for another three years, no problem."

Gerard Houllier: "He is a winner and still has this urge to drive the team on. He leads by example, giving a lot of himself to the team."
In 2006, he released his autobiography and I managed to get two copies for Christmas (people know me so well!), one of which is signed by the man himself (thanks Dad!). This autobiography, along with the recently documented 'Being Liverpool' incited two feelings within me. Firstly,I realised that I liked him off the pitch just as much as I do on the pitch, as he seems to be down-to-earth and family oriented, unlike some other footballers with horrendous reputations. Secondly, I was extremely jealous that I was not Alex Curran, and that I did not meet Steven in a club and marry him myself!
There is no denying his footballing prowess, and it comes as no surprise to me that he will (presumably) earn his 100th cap for England today. This fantastic achievement comes soon after Gerrard appeared in his 600th game for Liverpool, and I can only hope his appearances continue. I am saddened that he has not achieved more in his international career in terms of medals, though no Liverpool fan will forget his influential, determined contribution to their recent silverware, particularly that fantastic night in Istanbul in 2005.
At 32, although I hope he still has many games left in him, I understand that his career will eventually slow down. Gerrard's retirement from football will be a sad day for all, and I hope he remains in the game to pass on his fantastic knowledge of the sport to the young future of football.
Congratulations Steven Gerrard, and thank you for your commitment to Liverpool FC and your country!